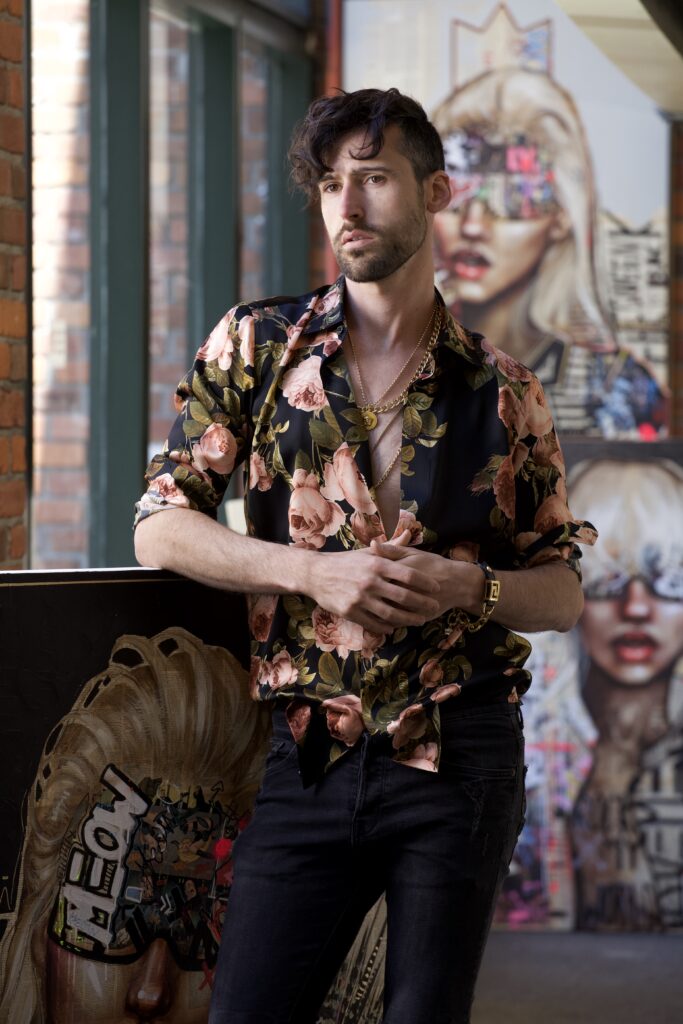 RIO is a modern and versatile artist that thrives through the mystery of his paintings. His burning passion for life emerges from his intricate pieces. In his art, you can experience the perfect balance between colours and textures.
When looking at RIO's paintings, you enter his own mysterious world, bringing the old with the new. This artist uses centuries-old encyclopedia pages and brings them back to life with powerful feminine images. RIO depicts women willing to do what it takes to claim their own rights and exercise their own choices.
RIO is in constant evolution seeking to achieve new creativity levels in mixed media by using ground-breaking techniques and a colourful palette for a unique work of art. Different matter like crystals, stones, rivets, fashion couture pieces and gold sheets are added to acrylic paintings to create surprising effects and an extra dimension to an already exquisite artwork.
Over the last few years, RIO has been working on three primary Canadian collections. Fallen Angels (January 2020), Garden of Eden (March 2020), Crazy Flavours (November 2021) and Garden of Eden – Revisited (September 2022). Each collection presents a distinct artistic style and examines different emotions.
Fallen Angels represents the humanization of the angelic icon, oftentimes considered virtuous and perfect. Garden of Eden highlights the fight for one's desires, that inner struggle every human faces, while Crazy Flavours explores gluttony in all of its senses. In summary, through his last collections, RIO takes us on a journey to revisit the concept of capital sins with the goal to normalize the imperfections they represent, something we, as human beings, tend to avoid dealing with.
RIO exhibited his art in Montreal, New York, Miami, Los Angeles, Paris, and Germany, and sold to many art collectors worldwide. He is a young visionary and vibrant artist who only follows his own path and keeps re-inventing himself. His street art paintings and some from his Exclusive collection are currently exhibited for sale at The Palms, Inspired Kitchen & Cocktails, in Victoria, British Columbia.
All paintings are original and there is no print reproduction. RIO offers commissioned works where colours and style can be custom-tailored to your preferences. If you wish to acquire a unique artwork or would like to discuss the possibility of a personalized RIO masterpiece, please contact us.
Website: www.rioartiste.com
Selected Awards and Achievements
Unveiled his European solo exhibition at Villa Boisserée in Cologne, Germany, June 2023.
Participated with Avant-Garde Art at the Miracle on the Mountain Gala organized by The Victoria Hospitals Foundation, May 2023 and generously donated a painting.
Unveiled his Exclusive collection for western Canada, Victoria, British Columbia, May 2023.
Unveiled his revisited collection, Garden of Eden, Ritz-Carlton, Montreal, September 2022.
Exhibited at Somewhere Nowhere in New York City, August 2022.
Represented in Cologne, Germany, by the Lanford Gallery, May 2022.
Artist in residence at Blacktower Gallery, Miami Design District, Florida, December 2021-2022.
Participated at Miami Art Week, December 2021.
Featured in YAM magazine, Sept./Oct. 2020.
RIO's street art paintings are available for sale at The Palms Restaurant.
Partnered with high-end fashion designer Pascal Labelle on the creation of four special-edition models of coats RIO painted using mixed techniques and materials.
Opened his own art gallery, Fall 2019.
Exhibited in Beverly Hills, May 2019.
Exhibited at the Fairmont Queen Elizabeth in Montreal, May 2018.
Exhibited in Paris, February 2017.
Featured in the Art & Design magazine, Paris, 2017.
Spellbound Close-Up with Crystals
The artist RIO painting in his gallery.
Crazy in Love Close-Up with Crystals