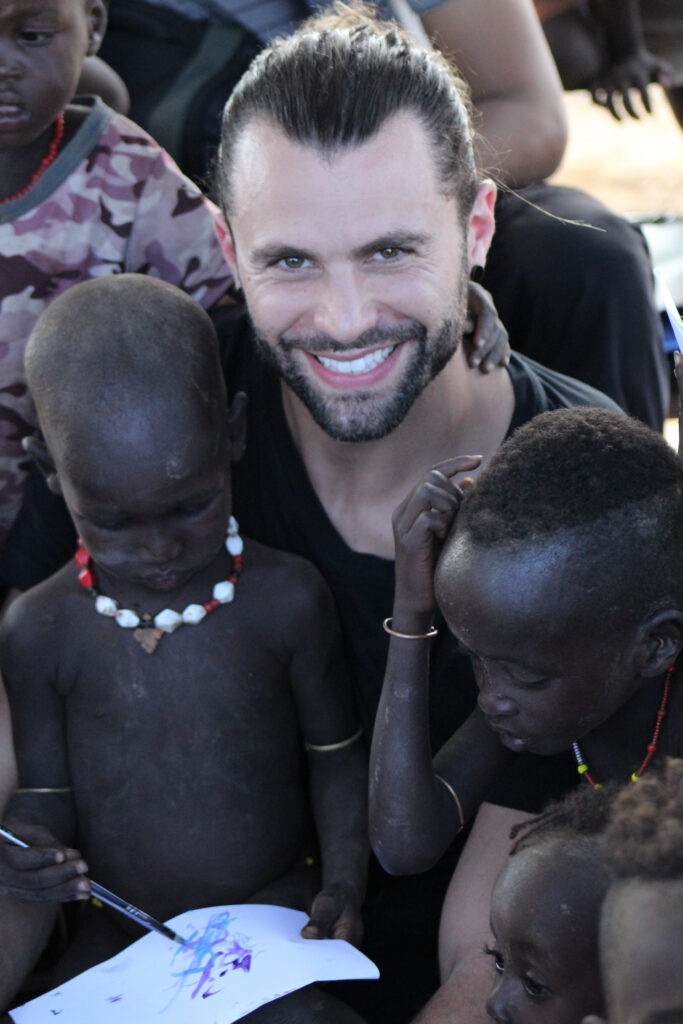 Born in Montreal, Onno has always been passionate about design.
A graduate in architecture after establishing his own design company, which he had for ten years, Guillaume Charbonneau, painting under the artistic name of Onno, is defying art standards by inverting his creative process and painting reintegrating negative space into the art. Working predominantly with oil paint and sometimes incorporating mixed media, Onno gives life to his artwork on a dark background, which he himself transforms by either scorching a piece of wood or painting a white canvas with a unique technique he developed to reach the perfect anthracite colour.
Onno is very unique in that he paints light into the darkness to create shadows, which show his subjects' souls and emotions. Drawing and painting have always been his means of expression since his childhood. After several years of experimenting with various media on different kinds of materials, Onno developed his own technique to paint by using his fingers, as a primary tool, directly on the canvas. In doing so, he transfers a piece of himself into the artwork and shares his emotions and life experiences, creating breathtaking artworks.
An avid world traveller with his trusted sketchbook, Onno depicts the beauty of the world and the cultures that surround it. His sketchbook becomes an extension of his passion to immortalize a glimpse in time of the many aspects of life, emphasizing passion, diversity, and beauty of his subjects. His paintings highlight their souls and tell a story, theirs, yours, a story of yesterday, or a story of tomorrow.
Onno is a master at manipulating and balancing shadows to build the perfect stunning monochrome piece with a mission to ensure that each work would not leave you indifferent. He offers different art collections to appeal to different tastes and welcomes the challenge of creating bespoke art, in any size, to suit your particular needs. He is currently venturing into sculptural art and is loving the opportunity to combine his architectural skills with his painting talent.
Website: www.onnoartist.com
Selected Awards and Achievements
Unveiled his latest collection Savage, in 2021, in Old Montreal, Quebec.
Attended, in 2020, ARTSIDAX, a group exhibition at Les Grands Ballets, Montreal, Quebec.
In 2019, performed humanitarian activities, art classes and donated art materials to The Ethiopian Children's Fund School in Aleltu, Shewa, Ethiopia.
From 2014 through to 2016, exhibited solo at several places in Quebec and in Provincetown, Massachusetts.
Performed humanitarian activities and donated art materials to Frank Pais Garcia school in Caibarién, Cuba in 2015.
Participated at two group exhibitions: Marinas (Caibarién, Cuba) and BOLD with a live performance (Montreal, Quebec) in 2015.
Performed live, in 2015, as an invited artist at La Turquie à Montréal at the Contemporary Art Museum of Montreal.