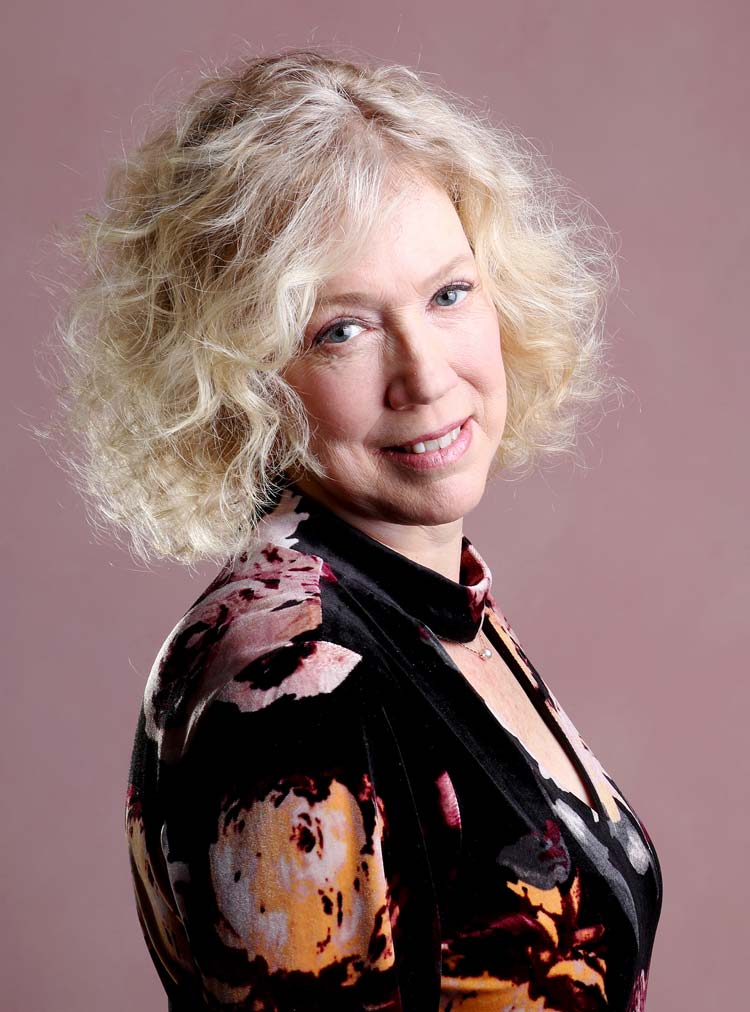 Lynda Dallaire is a contemporary artist painting with acrylic on metal using mixed media in a semi-abstract style. Visual arts have always been part of Lynda's life since her childhood and her experiments with various artistic techniques and media led her to follow numerous art classes once in college. A businesswoman for over twenty-five years, Lynda also holds a language degree and one in interior design.
It was only in 2010 when Lynda decided to start painting full time, which led her to exhibit at various venues in Canada and in Europe, including national art galleries. Aside of her artistic work, Lynda founded her own publishing house, Fabulle, in Spring 2014, which publishes books for children. She published over 70 childrens' books since that period while maintaining a full-time career as a painter.
Lynda is recognized for her technique and style of painting acrylic flowers on metal. The transparency of the acrylic on the aluminum creates stunning tints of luminosity. These tints, along with the richness of the newly created textures – some with coffee beans – are highlighted by adding a final coat of lacquer. The captivating contrast between the cold metal and the warmth of the compositions thus result in the creation of illuminating works of art.
As part of her paintings, Lynda may incorporate geodes of amethysts or citrine, polished agates or fluorites, petrified wood, and Swarovski crystals. Lynda's art can be displayed either vertically or horizontally. Interestingly, this artist follows the sun schedule and only paints when it is sunny as she uses only the natural light to guide herself in creating her pieces.
Website: www.lyndadallaire.com
Selected Awards and Achievements
Represented permanently by the Galerie d'Art Le Bourget (Montreal) and by L'Autre Galerie d'Art Iris (Baie-St-Paul, Quebec).
Interviewed by CCAP.Tv in 2015 where a complete episode was dedicated to her art.
Participated in 2013 at both the 38th International Exhibition (Roma, Italy) and the 37th International Exhibition (Bruges, Belgium).
Performed a solo exhibition at the Château Laurier (2012), Quebec and attended various group exhibitions throughout Québec, including at the Musée de la Civilisation, Québec from 2010 through to 2013.
Received, in 2012, the Grande Distinction and Honours Diploma for her contribution to promoting visual arts on the international scene at the 36th International Exhibition – Constanta, Romania.
Published in Capital-Québec in December 2012.
Published in PORTRAIT magazine, Québec – October 2012.
Published in Magazin'Art in Spring of 2011.
Published in the interior design, architecture magazine SofaDéco – both in Montreal and Quebec in December 2011.
Participated in 2011 at the 35th International Exhibition of the Festival International des Cultures Francophones – Marenne, France and received an Honours Diploma for the originality, esthetic value and technique for her displayed art.
Received, in 2011 and 2010, an Honours Diploma for her contribution to promoting visual arts on the international scene for both the 34th International Exhibition – Bruges, Belgium and the 33rd International Exhibition – Cangas, Spain respectively.
Won the Prix Grande Distinction, in 2010, for her distinct technique at the 27th Gala International des Arts Visuels Son et Lumière in Montreal.