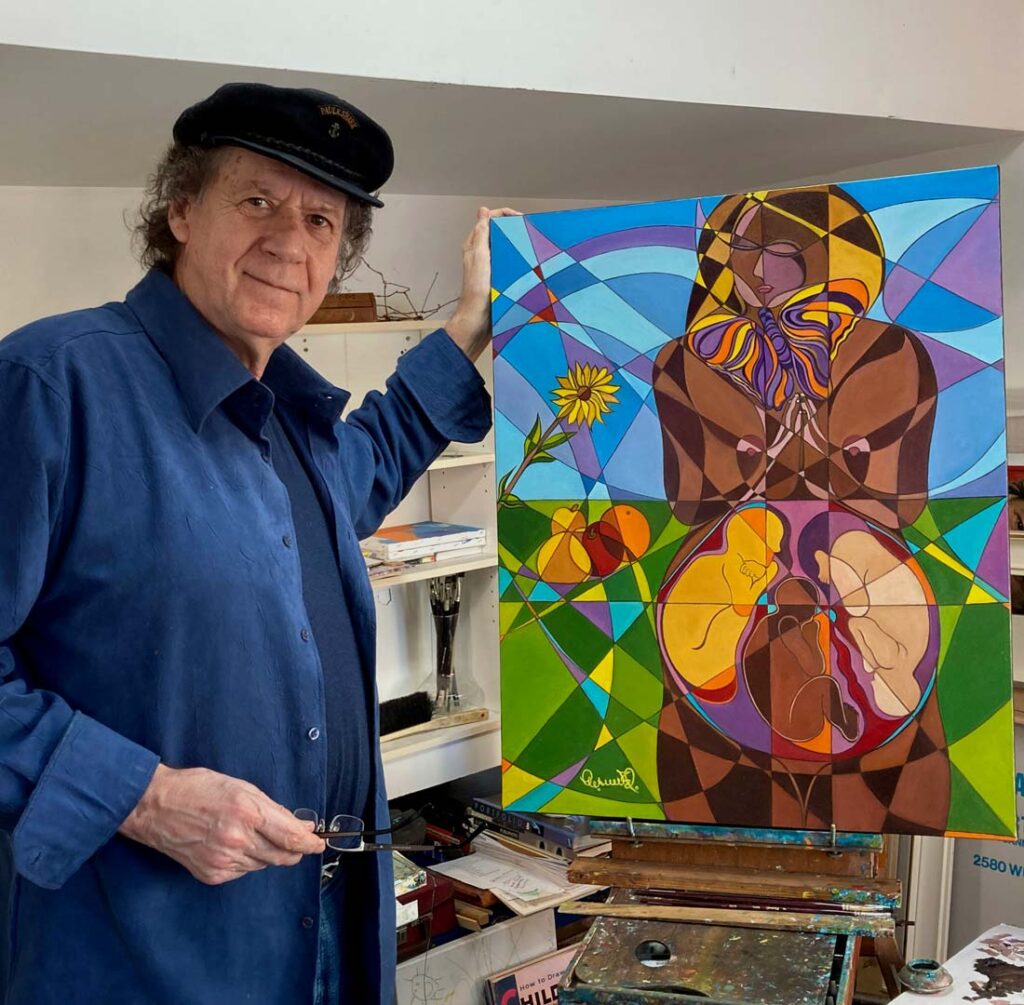 Gabriel Landry was born in 1950 in Natashquan, a legendary Quebec township located on the North shore of the Jacque Cartier Strait and the Gulf of St-Lawrence. Natashquan is also the birthplace of internationally acclaimed poet and songwriter, Gilles Vigneault, who is also a relative of Gabriel.
With over five decades of ongoing artistic creations, Gabriel was only a teenager when he discovered Picasso and cubism, which greatly influenced his art and allowed him to paint reality from a different perspective, as seen through the lens of a kaleidoscope.
His paintings are pictorial productions relating primarily to themes of philosophy, poetry and spirituality in a style he qualifies as compartmentalized symbolism. His symbolic approach leads him to create visual scenes that reflect his vision of the world via specific means of expression. Each painting contains a small story open to multiple interpretations. The compartmentalized method ensures equilibrium between the forms present and allows for the decomposition of the figures by sections similar to those found in a stained-glass window or a prism. His paintings consist of oil on canvas and use different colour tonalities applied in tint-like fashion.
"My work is a kaleidoscope representing a world without borders, a dreamworld, reflecting my boundless passion for painting and my ability to represent in the form of symbols the human thought process and values using straight lines, curves and pure colours."
In addition to obtaining several recognitions for his unique type of art over the span of his career, Gabriel's works were disseminated internationally and showcased at numerous exhibitions. Furthermore, a book was published containing 22 of his works, six of which were featured on the cover pages of a new magazine in Quebec. A film based on his life and work will soon be completed and be the subject of a television series.
Gabriel's works are all originals, but he does offer, on certain occasions, a limited number of giclées.
Website: www.gabriellandry.com
Selected Awards and Achievements
Published, in January 2021, in Art4Any, a European art magazine.
Published in Magazin'Art in Winter 2020, Fall 2017 and Winter 2016.
Created in 2020, L'Olympiade de la Vie, a piece inspired by the coronavirus and confinement. This painting was the subject of interviews by Radio-Canada and other media and was featured in Magazine Chic, an online European French magazine dedicated to lifestyle topics.
Exhibited for the G7 Oceans Partnership Summit held in Halifax, Nova-Scotia in September 2018.
Presented, on May 16, 2018, a solo exhibition at the Montreal City Hall in Quebec during the International Day of Living Together in Peace, a day declared by the United Nations.
Created in 2017, Au Fil du Temps – Hommage à Leonard Cohen depicts the portrait of Leonard Cohen, Canadian singer-songwriter, poet and novelist. This painting was finalized two months before Mr. Cohen's death and was associated with two important events held during Montreal's 375th anniversary, including several publications from various media in Quebec.
Exhibited at Agora Gallery – Chelsea, New York, December 2015.
Commencement of filming Le Secret de l'Arc-en-Ciel, in 2013, a fiction film inspired by Gabriel Landry's life and his work and which is the subject of a 24-episode TV series.
5 à 7 dans le Monde, a piece referring to the five continents and their seven billion inhabitants (as of 2011), was chosen by Rotary International for the Rotary Peace Conference Marathon held simultaneously throughout the world on September 21, 2012.
22 of his paintings were featured in the book Au-delà de l'Apocalypse, published in 2010.