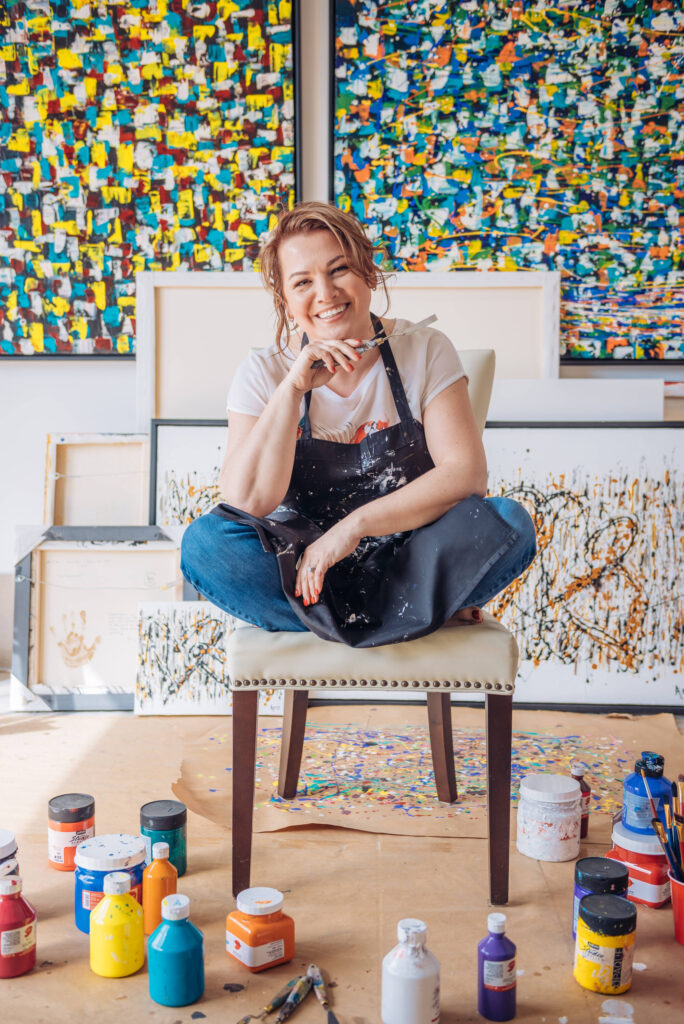 Born in Quebec in 1975 in a family of entrepreneurs, Caroline Bergeron is introduced at a young age to the world of business and art. Her artist name is Aro and represents, in addition to the diminutive of her first name, three words that inspire her: Authenticity, Romanticism and Originality. Graduated in administration and marketing from Cégep de Sainte-Foy, she obtained a minor in management at the École des Hautes Études Commerciales de Montréal (HEC) before continuing to the Elite Program of the École d'Entrepreneurship de Beauce.
It was at that school, during a creative workshop in 2017, that she felt transformed by art and decided to change her professional orientation after a long career as a restaurant owner.
Several elements marked her progress: notably, her meeting in 2019 with former first lady of the United States, Michelle Obama, to present one of her paintings in person, and her exhibition, in 2018, at the Carrousel du Louvre in Paris. That trip allowed her to deepen her knowledge of different artistic movements and made her work evolve considerably.
After starting her new career in 2017, Aro experimented with various mediums. She took drawing courses, but also advanced ones in the field of artistic career development at the international level.
2018 was a milestone year for Aro. She opened her own art gallery in Stoneham besides her creative studio and presented her first two collections The Sum of my Encounters and Urgence de Vivre. Since then, she participated in solo and group exhibitions, which led her to show her art in Canada, the United States, France, Poland, Turkey, Egypt, and Dubai. From her early days in the art world, she quickly obtained awards and distinctions for her work and has been the subject of several articles, reviews and publications in books and specialized magazines, including numerous television appearances. 
In 2018, she was appraised by an art expert in Canada and, in 2020, by Akoun in France, which confirmed her value on the international contemporary art market. That same year, she entered the museum level in France with a first exhibition in a contemporary art museum (MACVR3D).
With only six years since the start of her career as a contemporary abstract painter, Aro succeeded in exhibiting her art on five continents. In May 2023, she unveiled her new collection Non-Négociable, which described her journey of self-discovery about who she is. 
Artistic Approach
Aro creates her paintings in successive layers, influenced by the iconic technique of Jackson Pollock. Techniques such as dripping and all-over painting with a palette knife can be found in her work, which is sometimes at the crossroads between lyrical abstract and geometric abstract. Aro has always used pure instinct to express feelings and emotions on canvases.
"Each work has its story. I dig deeper within myself and I share my thoughts, what lies within me." explains the one who feels artistically close to Jackson Pollock and Jean-Paul Riopelle.
The creation process begins with Aro performing a self-assessment of her feelings and thoughts at that specific moment. The feedback she gets influences her choice for colours, movements, textures, and energy that she wants to provide to her painting. The artist conceives her work like a dance, where each gesture corresponds to an interior melody which she expresses in colour on the canvas, thus revealing a state of mind or a state of being. She is one with her work.
In Aro's view: "Art is a very powerful and unique emotional marker. Art provokes emotions."
Painting allows Aro to reveal herself and to show her vulnerability. It frees her and provides her with the ability of letting go. Every painting represents the release of repressed emotions and a step towards gratefully embracing the abundance and fullness of life without fear. In this process of liberation, three acts stand out: being in the present moment, fulfilling the need to express oneself and inspiring people.
Each painting has its own story. Aro is only telling it.
"When I stand in front of the canvas, my goal is not to create something that "everyone" will love, but to turn my gaze inward, paint my truth and my worldview, and unveil my heart and my vulnerabilities. As an individual, I am the sum of all the people I have come across. It made me who I am and shaped the way I create and define myself as an artist."
For each piece Aro creates, she provides an explanation on the back of the artwork which describes its meaning and how she felt when she created that particular piece.
Website: www.aroartiste.com
Selected Awards and Achievements
Unveiled the Non-Négociable collection (May 2023).
Was published, in September 2022, in the prestigious Architectural Digest magazine.
For year 2022, had three solo exhibits in Quebec, Cincinnati and New York and participated to eight group exhibitions on five continents, including her participation to the World Art Forum in Cairo, Egypt (Jan. 2022) and the World Art Dubai, United Arab Emirates (March 2022).
Unveiled the Introspection collection (May 2022).
Exhibited during Miami Art Week in 2019, 2021 and 2022.
Exhibited at ArtQuake with Art Nigde International Gallery in Nigde, Turkey (Sept.-Oct. 2021).
Solo exhibition at the ArtExpo, New York in October 2021 and was the artist winner for the Spotlight Program.
Received, in 2021, a gold medal in the abstract art category at the international exhibition of Le Cercle des Artistes Peintres et Sculpteurs du Québec in Paris, France.
Unveiled two collections: Pure (May 2021) and Renaître (Fall 2021).
Received a recognition award from the VR3D Contemporary Art Museum, Longwy (France) for her contribution to promoting Canadian art on the international scene in 2020.
Former First Lady of the United States of America, Michelle Obama, acquired an artwork from Aro in September 2019.
Received, in 2018, a medal of honour for the quality of her work and her contribution in promoting Canadian art on the international scene (Poland) and a gold medal for her distinct technique with her piece Reaching for the Impossible (France) at the international exhibition of Le Cercle des Artistes Peintres et Sculpteurs du Québec.
Published in Magazin'Art in Spring, Summer and Winter of 2018; and Summer and Winter of 2019.
Opened her own art gallery in August 2018 in Stoneham, Quebec.
Exhibited at Art Shopping – Carrousel du Louvre in Paris, May 2018.
Exhibited at Art Expo – New York, April 2018.
Recognized by the Mondial Art Academia in France, 2017.